Conifera Christmas Tree Farm offers choose and cut trees and pre cut trees. Current 2021 choose and cut inventory is limited to large blue spruce, Norway spruce, black hills spruce and Serbian spruce 7-18'.  We are OPEN for the 2021 season Early Birds- November 21st , November 26th, 27th, 28th, December  3rd and 4th,  10th and 11th,18th,19th from 9am- 4pm while supply lasts. 
These are great for exterior placed trees for holiday home decorators, commercial or municipal displays, country clubs, churches or if you just need a tall tree. These can also be cut to your specs.
We also have Premium grade (from our Wisconsin partner farm that won the National Christmas Tree Contest) pre-cut Fraser fir Canaan Fir, and Balsam fir ranging from 6-11 ft and fresh wreaths and garland made onsite in our sales shop.  Every tree sale this year over $100.00 will receive a free ornament.    
We offer use of our hand saws, tree shaking and baling for free. We can cut the tree for you if you wish.  Free refreshments including hot chocolate, hot apple cider, popcorn, and homemade cookies.
Our farm is proud to participate in the "Tree's for Troops" program which provides trees for military families.   If you would like to purchase a second tree for this program we will provide a 10% discount on the donated tree.   Additional information can be found at treesfortroops.org.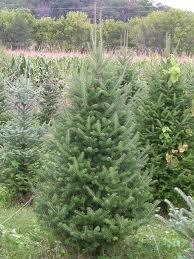 Balsam Fir
These needles are ¾ to 1½ in. in length and last a very long time. This tree has a dark-green appearance and retains its pleasing fragrance throughout the Christmas season.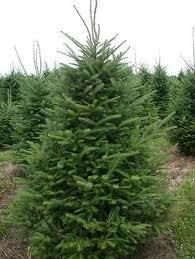 Canaan Fir
The Canaan is a medium growing (1-2ft per year) evergreen. It will grow up to 50 ft tall and 15 ft wide, and has the traditional evergreen shape and a very nice fir smell.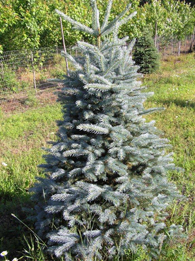 Colorado Blue Spruce
This Christmas Tree has good symmetrical form and an attractive blue foliage. It also has good needle retention. This is our primary tree for flocking.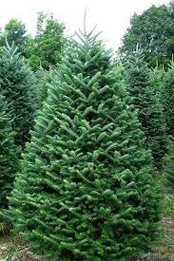 Fraser Fir
The Fraser fir branches turn slightly upward. They have good form and needle-retention. They are dark blue-green in color. They have a pleasant scent, and excellent shipping characteristics as well.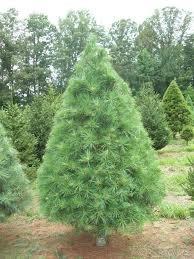 White Pine
The largest pine in the U.S., the white pine has soft, flexible needles and is bluish-green in color. Needles are 2½ – 5 inches long. White pines have good needle retention, but have little aroma.