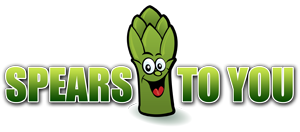 Spears to You is the asparagus part of our farm and has met with tremendous response and growth.  We sell out on almost a daily basis.
With the success of our test plots and our first acre of asparagus we have since expanded to 7 acres of asparagus.  That's a total of over 50,000 plants.   The varietals  that grew the best were  Jersey Supreme and Millennial.  The fields are prepped in the spring with nutrients and again in the summer.   Weed control is a season long task.   Asparagus is an early season crop and harvest usually begins in early May with a season that lasts 4-6 weeks.  We have multiple powered harvest carts that harvest fresh daily.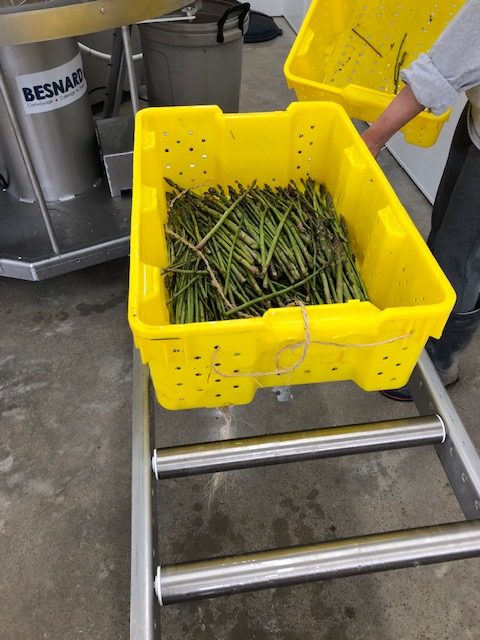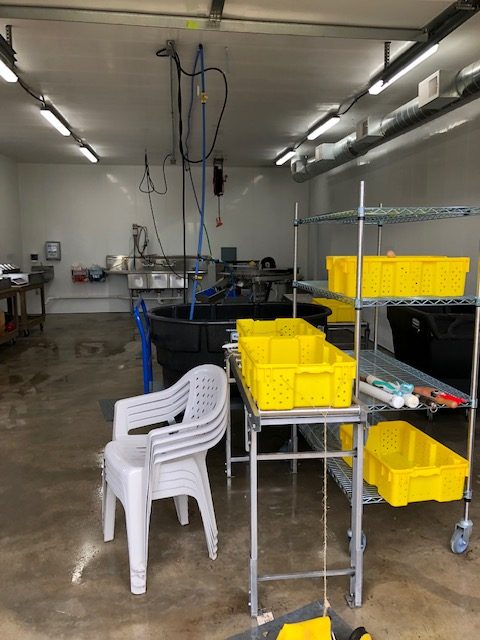 In addition to all of the field work we also finished construction in the new pole barn of a USDA GAP principles designed Asparagus processing plant.  Diana and I both became certified in USDA GAP.   The new room is designed like new dairies or other food processing centers with total cleanliness as a top priority.   Everything from the PVC wall and ceiling panels, waterproof lighting and electric, stainless steel triple sinks and equipment was done with attention to detail and a clean space.   Our plant is equipped with a walk in cooler and a hydro-cooler designed to drop the temperature of harvested asparagus down as quick as possible to obtain the freshest product.   We also traveled to France last year to purchase an Asparagus processing machine that washes, cuts and sorts asparagus by size.   We are the first farm in the USA to have this piece of equipment.  Every detail of asparagus has production has been looked at from species type to plant, to growing maintaining and harvesting the spears.   After harvest we wanted the best on farm asparagus processing room we could obtain and we have succeeded in that commitment to excellence.  We even worked with a local box company to develop a carton capable of being recycled yet have the waterproof characteristics of wax lined traditional produce boxes that will not break down in land fills.  All of our cartons this year will feature the new corrugated material that will recycle.
We sell direct at the farm and also have an honor fridge onsite for daily sales. You will see our sales truck at local venues in the springtime.    If you are a restaurant owner with farm to table needs, or a CSA operator with product needs we have boxes of asparagus available in 11 or 30 lb quantities.   You can call 630-779-6249 to discuss your needs or schedule a time to come out and check us out.